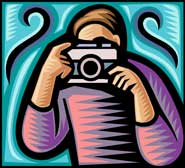 Great Photo Tools -
Accessories
---
Looking for a great tripod for your fireworks photos?

Photographing Fireworks -
the Easy Way!
By Dan Davenport
Here in the US, we celebrate our Independence Day Holiday on July 4th. A great day for family, fun, picnics,and... fireworks!
Of course, many other countries have fireworks worthy holidays and occasions. And what are fireworks? Beautiful to watch certainly, but more important, they are also opportunities for great photos. And it's a great idea, because it's really easy.
Camera wise, for photographing fireworks, you just need one with manual exposure so you can set "Bulb" exposure. This means that that shutter stays open as long as you hold your finger on the release. That's the only way to get the "trail" of the burst.
Next, exposure. Updating from the old Kodachrome ISO 25 exposure, which was Bulb @f5.6 -- today, most digital cameras are based around ISO 100; that means you should shoot at about f11. You'll want to look at some of the images quickly to possibly adjust the exposure to get the colorful results you want.

And, you'll want a tripod with a nice loose pan/tilt head with just a bit of tension/drag to smooth the action. I find it comfortable to sit on a chair with the tripod between my legs and the viewfinder about eye height.
Set the camera for manual exposure - Bulb at f11 (based on ISO 100).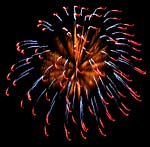 Then, it's simple. As you see a rocket heading skyward, follow it up through the viewfinder, and just before you think it will burst, open the shutter and hold it - this is where Bulb exposure comes in - the shutter stays open as long as you hold your finger down on the shutter button.
Let the burst happen. It's helpful to keep your other eye open to watch the burst if you are using an SLR where the viewfinder will black out during exposure. When you see the burst has peaked, release your finger to close the shutter. Make sure, of course, that you don't move the camera during the exposure - though actually, that is another way of taking fireworks photos. You can also zoom during the exposure. But these techniques will be the subject of a different article.
Really... that's all there is too it. Using this simple process, I have taken boxes of fireworks slides and disks of fireworks files. It really is that simple.
| | |
| --- | --- |
| | You'll find that you'll get some "duds" from mis-aiming the camera (those pesky rockets don't always go where you think they are going), not very striking bursts, some bursts are lighter, some are darker, sometimes you timing will be off, and so on, but you'll also get a bunch of great fireworks photos to print, frame, and proudly display. |
Have a safe holiday....
© 2008 Dan Davenport

Dan Davenport has been involved in photography for more years than he cares to think about. He worked for Minolta Cameras for over 30 years and taught photography as well as developing the Minolta School of Photography which evolved into The Maxxum Experience photo education seminars. He wants photographers to take the best photos they can and encourages them to proudly display their work for all to see.

Fireworks photos make great accents in your photo walls. Use them to bring attention to particular groups of prints. We have some great parnters to help you for get those exiciting prints to hang about your home for all to see:
And talk about unique.... our partner Cafe Press has been, for years, one of the great places to get your photos and ideas onto tee shirts, mugs, calendars - all sorts of stuff. Check it out!!!
And unique in a different way... put your own photos on real U.S. Postage stamps. Cool...