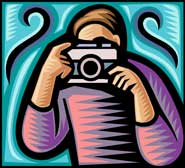 Great Photo Tools -
Accessories
---
Scrapbooking and Digital Scrapbooking -
Creating Our Own Personal
"Tapestry of History"
Today's digital cameras make it very easy for us to take many pictures. This is good. We keep a visual record of our families as they grow ... the people we are and know, the places we've been, the places we live, and the times ... both good and bad ... we've had. But keeping these pictures in a box hidden in the closet doesn't "show and tell" that story to friends and family, visitors to our home, and future generations - so don't just pack your pictures away where they can't be seen. Show them off!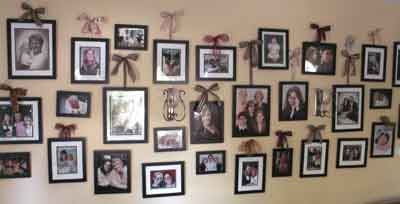 First, always use your home as a photo album. Have lots of prints made, some smaller and some larger, frame them, and proudly display them on your walls. Change them often as times change ... children grow up, interests change, and we meet new friends and visit new places ... a daily reminder, to us and those who visit our home, of who we are, and who and what are important in our life.
But we usually have many more photos than we have wall space, and often many photos need a "caption" to tell the special story about THAT picture and why it was important at THAT time.
Enter the wonderful world of Scrapbooking and Digital Scrapbooking ... the RIGHT way to keep all those great photos handy for all to see AND tell the story that goes with each one. Your own personal "Tapestry of History."
Scrapbooking is the way for us to beautifully preserve our personal and family history for all to see in the years to come. In addition, within the pages of a scrapbook, you can tell the story of the life of your family with photographs, printed pieces - all the "scraps" of your life - in wonderfully decorated books ... scrapbooks. Telling the story in words, pictures, and mementos keeps them fresh through the years ... think of your school yearbooks with the photos and comments from your friends. You look back at them years later and remember the good times and great friends - and are reminded of many things you probably forgot.
This idea of keeping pictures, stories, and memorabilia in convenient books - albums - has been with us for many years, but only in the last 20 - 30 years has it risen to the form of a high, "personal" art - the art of your family.
One thing to avoid ... as you create pages of pictures and memorabilia, don't let the background paper overpower the pictures. Your photos and mementos are the star - not the paper. Use exciting paper wisely, but don't let the background paper take away from your pictures. The easy way to make sure the background doesn't rule the page is to make sure you use more than one photo or other family item on each page. Make sure there are enough pictures and items of interest on the page to force the background to ... the background.
Want to get started in the fascinating craft? It's easy.
There are two basic ways to build scrapbooks, the traditional physical scrapbook and digital scrapbooks. Either way is fun and easy and will give you years of creative satisfaction, plus you'll create your own family "Tapestry of History" that will live on telling your story - your family story.
Traditional Scrapbooking uses physical books, pages, scrapbooking paper and supplies, and embellishments for scrapbooking that must be replenished as you use them. This sounds expensive, but it's not really, and the texture of a traditional scrapbook with real ornaments and embellishments is often preferable to digital ribbons and buttons and other decorations. Physical scrapbooking is definitely a real tactile experience that digital scrapbooking may not be able to give you. Scrapbooking kits can give you a "quick start" with complete packages of a scrapbook album, scrapbooking pages, design ideas and phrases, and informative and motivational instructions to get you going beautifully and quickly.
When you move to Digital Scrapbooking, you use "reusable" digital components, digital scrapbooking paper, type, buttons, etc. to complete your digital scrapbook. Once you start with digital scrapbooking kits, you assemble pages right on your computer screen. You can use one digital photograph or electronic embellishment many times - whereas with a physical photo print, if you want to use the same image again, you must purchase another print, and if you use a graduation or theater program, sports ticket, or other one of a kind element ... you only have one. Some digital scrapbooking is online scrapbooking.
Hybrid Scrapbooking - the best of both worlds. The exciting combination of digitally created pages with traditional tangible embellishments, adds a definite "sense of touch, feel, and dimension" to your scrapbooks.
Journaling - Bringing the Story to the
Tapestry of Your History
Photographs, tickets, programs, postcards ... all the memorabilia of your life will make fascinating pages in your scrapbooks - but words complete the picture. The stories that describe ... that explain the pictures to your family and to readers, and refresh your memories of your life when you review your scrapbooks in years to come. Many times the journaling of your life is necessary to explain some of the photos and memorabilia. And sometimes journaling fills in the spaces between the photos telling what you and your family felt and why you were there. The story can be simple reporting ... it can reflect internal feelings of the moment ... or it can accent and augment the photo. Sometimes, just a list of words or feelings will suffice. How about poems ... the words to a song ... relevant quotes ... anything to complete the story and keep it from being forgotten.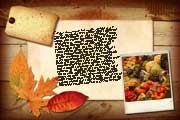 Many readymade scrapbook pages have large spaces that encourage you to include more words than pictures on the page. This can be very good. You can hand write the entries, or complete them on a computer using your word processor. However, laying out the type in a page layout program can provide enhancements that most word processors don't have available. Print the words directly on the page, on many different materials like ribbons, vellum, or special papers and place them on the page to give special emphasis. The important thing is to add words to your pages to make sure the story is not lost over the years.
| | |
| --- | --- |
| And, of course, sometimes you are "stuck" for a great phrase, quote, or just the right words. My friend Linda Latourelle has a great book chock full of ... just the right words. Amazon can get it to you quickly so you will never be, "At a loss for words." | |
| | |
| --- | --- |
| | Faithbooking - scrapbooking that brings your own personal faith to life - your feelings, your prayers, your memories, and the events that have guided your personal journey to your faith. |
You'll be interested in these frequently used Scrapbooking Terms:
Acid Free - archival materials are the best to use in scrapbooking as the acids in many items may prematurely age or otherwise deteriorate your scrapbook pages. Many of the papers sold today may be acid free when they are manufactured, however, unless they have been treated with a neutralizing agent, or buffered, chemical reactions may cause the paper to become more acidic over time and "yellow" your pages and embellishments.
Adhesive, or Glue - just what you think ... it holds things together, it holds embellishments in place on your pages.
Buffered Paper - contains acid neutralizing alkaline materials in the papermaking process that can cancel the detrimental ageing effects of the natural acids in the paper.
Cropping - 1) Trimming a photo or other embellishment to just the subject - crop out the unnecessary elements: 2) Gathering to create scrapbook pages in a home, a scrapbook store, or at a convention. Such an event may sometimes be called a crop. Bring your own scrapbooking materials and create pages in a comfortable social setting. Think of quilting and knitting bees.
Embellishments - the elements you use to decorate your layout. Embellishments include stickers, artificial or dried flowers, fabric and fibers, ribbons and trimmings, eyelets, grommets, brads, charms, small metal frames, etc. - your imagination here really brings a page to life.
Hybrid Scrapping - the artful combination of digital scrapbooking pages and tangible or physical items normally used with traditional scrapbooking. This technique incorporates physical scrapbooking items onto a digital scrapbook page. This adds bulk and texture to a digital page that you can't get with computer graphics alone.
Lignin Free Paper - contains no lignin, a natural substance found in wood that slowly disintegrates and makes the paper yellow with age. Lignin-free paper will maintain the look that you create for years to come.
Matting - places a border around your photos or cut out pics. Place your print on a piece of white or colored stock and trim around it. You can create wide borders, small borders, or fancy shapes. This is an quick and easy way to create an interesting "frame" for a picture or other element on your page.
Memorabilia - items or "reminders" that bring back memories. Use; programs, ticket stubs, postcards, invitations, awards, pamphlets, etc. - whatever. Remember, it is your memory, so whatever you want, you can use.
Paper Punches - create decorative borders, edges, and corners on photos and other physical elements on a page. You can get an almost unlimited variety of shapes and sizes.
Rub-Ons - are decorative accents that can be added to a scrapbook page. Rub-ons come on a sheet, and are literally, "rubbed onto" the page with a wooden, plastic, or bone stick. Unlike stickers, rub-ons have no "background" to distract from the design.
Scrap-Lifting - seeing an idea or design from someone else and modifying it for your own scrapbook.
Scrapping - another name for scrapbooking - to create scrapbooks and scrapbook pages.
Self-Mount - another type of scrapbook page that uses lightly adhesive coated pages to hold pictures and embellishments in place.
Vellum - is a type of translucent paper used to "showcase" or highlight pictures or type that you want to emphasize.
You're Not Alone!
Many think that the increasing interest in scrapbooking today comes from so many people actively pursuing their family roots. And, of course, it is certainly a rewarding and creative outlet for people's photographic and design interests.
For evidence of the increased interest in scrapbooking, consider the following facts:
Today, more than 25 million people in the United States alone enjoy scrapbooking as a hobby or way to record their family history.
Believe it or not, almost one third of households here in the United States have at least one person in the family who creates scrapbooks.
Research shows that scrapbooking, one of the fastest growing craft and hobby industries, is the third most popular craft in the nation. In addition, from 2002 to 2004, sales of scrapbooking products grew more than one quarter.

For more exciting books on scrapbooking,
see what Amazon.com has to offer.