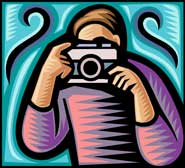 Great Photo Tools -
Accessories
---
You've taken and printed all those great pictures of family, friends, and the places you've been... the tapestry of your own family history... now what? These days, there are three ways to save your photographic memories:
In a shoebox in the closet
Beautiful prints hanging on the wall (here is a great article about making your home into a "photo album")
Create an attractive, informative, and exciting digital scrapbook (which you can maintain online or print out and put in a beautiful book - either way to share with family and friends)
The only one of these three that you don't want is the shoebox in the closet solution... no one will see your family, friends, and where you've been when they can't see your photos.
For the second, a great inexpensive beginning scrapbooking book is the best way to start. And even if you will be planning to do digital scrapbooking, this will give you a great start.
But the easiest - and fastest - scrapbooking is digital scrapbooking. Many people are concerned that they are not "creative enough" to make exciting scrapbooks to show proudly to friends and family. Well, our partner, Bonnie Evans has a remarkable digital scrapbooking kit solution for you - an exciting and extremely large package of digital scrapbooking instructions, ideas, elements, and tips that will get you up and running in no time - and at a remarkably low price.
This is a very complete starter package really gets you up and running quickly in digital scrapbooking, and at the low introductory price, you will not only create your first digital scrapbook quickly, you will also not spend a lot of money. And what will you have to show for it? Lots of pages that you can put into books and share with friends, or share with far away family and friends when you put your pages online for them to click and view.
Look at the many advantages of digital scrapbooking:
You'll create amazing pages in seconds!
You'll think you have a scrapbooking expert sitting right next to you helping you select what papers and embellishments match!
You can finish entire scrapbooks in a fraction of the time it takes using traditional methods!
You can quickly print your pages and create paper scrapbooks, brag books, mini albums and more!
You can use digital artwork to accent your paper supplies!
You can create your own cards, tags, frames and more!
You'll never run out of scrapbooking supplies because you have digital files to use over and over again!
You can share your beautiful scrapbooking pages instantly with family and friends by sending them in an email, uploading them to a gallery or other photo sharing service!
You can use the digital elements and papers to complement your paper scrapbooking activities too! Print your own borders, frames, tags, letters and phrases, and more!
The possibilities are endless!!!
Bonnie's exciting scrapbooking kits - all included in her remarkable package - will keep you creating for years to come.