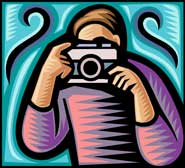 Great Photo Tools -
Accessories
---
You've taken and printed all those great pictures of family, friends, and the places you've been... the tapestry of your own family history... now what? These days, there are three ways to save your photographic memories:
In a shoebox in the closet
Beautiful prints hanging on the wall
In an attractive, informative, and exciting scrapbook
The only one of these three that you don't want is the shoebox in the closet solution... no one will see your family, friends, and where you've been when your photos can't be seen.
For the third, you can look for digital scrapbooking software - or an online digital scrapbook. These are certainly good solutions, but the best scrapbooking solution is your own creation. But many people are concerned that they are not "creative enough" to make exciting scrapbooks to proudly show to friends and family. Well, our partner, Christine Perry has a remarkable solution for you, "Into Scrapbooking - Mastering the Art of Scrapbooking."
This is a great book to start you on your way in the wonderful world of scrapbooking.
However, when it comes down to value for money, easy-to-follow information and the sheer volume of material jam-packed into one resource, "Into Scrapbooking" takes the lead by far.
"Into Scrapbooking" starts with lots of good background so you know where to start, so it really gets you going quickly.
Next, it tells you what supplies you'll need, and suggests many places to get them - and save money all the while.
Don't know what to say? "Into Scrapbooking" has lots of good quotes and caption ideas to get you thinking.
It's full of dozens of useful tips, shortcuts and professional techniques
It gives you the advantages of physical scrapbooking, and gets you ready for when you want to expand into digital scrapbooking.
Most important, there are lots of finished pages to inspire you - really inspire you!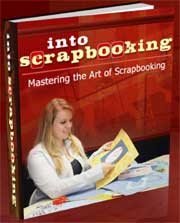 But the most astonishing thing about "Into Scrapbooking" is its amazing price. It's totally amazing how much information is in the book - at its astonishingly low price. Take a look!
If you're looking for a quick and easy way to get started creating exciting scrapbooks that preserve your family's history for all future generations to enjoy, there's no better place to start than, "Into Scrapbooking!" Get those pictures out of the shoebox and into lively books that everyone will want to see - and share.